Product Details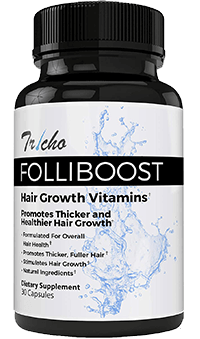 The Folliboost Hair Growth Vitamin is designed to promote stronger, thicker hair growth with a specifically formulated capsule filled with your daily dose of essential vitamins specifically for hair. It's a must have for users of Folliboost Hair Growth serum as it can help boost results during your hair growth journey.
Experience The Breathtaking Transformation
Nourish

Nourish your hair follicles
with everything they need
to reach their fullest potential

Thicken

Visibly thicken
thin hair

Renew

Enjoy totally renewed
looking hair fast

Fortify & Strengthen

Strengthen hair to withstand
the elements,
styling tools and more
Works With All Hair Types
Normal
Thin
Thick
Short
Long
Benefits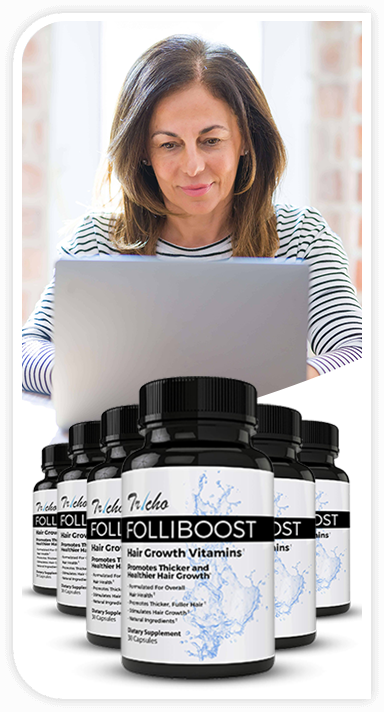 Promotes Beautiful,
Thick Hair
Powerful and specifically formulated to promote strong, thicker growth in existing hair. Supercharges results when paired with Folliboost Hair Growth Serum.
Protect And Fortify Your Hair
Premium ingredients used in our vitamins may help to safely and gently nourish hair follicles to help fight signs of thinning. Strengthen your hair and keep it strong, for life.
Supercharge Your
Hair Growth
When used with our flagship hair growth serum, the vitamins and serum work together to promote the growth of beautiful, luscious hair like you had 20 years ago (or better).
Key Ingredients

Biotin
Biotin is a crucial part of supporting healthy hair growth. Without enough biotin, hair loss or thinning may occur. The biotin dosage in these vitamins allows you to relax knowing that your hair has all it needs to reach its fullest potential.

Vitamin C
Vitamin C is a powerful antioxidant that helps create a well known protein called collagen, an important part of hair structure.

Zinc
Zinc plays an essential role in hair regrowth and repair. It helps keep the oil glands around the follicles working properly around the clock helping hair grow, and keeping it strong.

Vitamin B12
Vitamin B12 helps create red blood cells, which carry essential nutrients, and oxygen to the scalp and hair follicles. This process is extremely important for hair growth and strength.
How It Works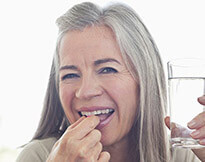 Step 1
Take 1 Vitamin Per Day
At any time during the day, take 1 vitamin.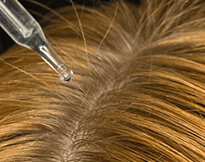 Step 2
For optimal results, pair with Folliboost Hair Growth Serum
Our Guarantee
Fuller and Thicker Hair - Or Your Money Back.
Folliboost Vitamins are a premium product with natural ingredients shown to promote thicker hair growth, help with visible signs of hair loss, and generally improve your hair in women of all hair types. Especially, when paired with Folliboost Hair Growth Serum.
That said - everyone's hair is different and if you aren't satisfied with what the product is doing for your hair - Tricho Labs offers a 100% 180 Day Money Back Guarantee.
How does it work? Try the product out as the instructions lay out and if you are not happy with the product for whatever reason you can send it back to us in 180 days for your money-back.
About Folliboost
Folliboost is dedicated to providing women with healthy hair products that are made in the USA, with top quality natural ingredients.
We are committed to giving you the best product possible, and the best service thereafter. If you have any custom suggestions you'd like us to consider, we LOVE those! Please reach out and we'll see if we can get them incorporated.
Our manufacturing facility is state of the art and under top standards.
With a mixed team of manufacturers, supply-chain, production, chemists, business people and marketers- we're all here to serve YOU.
Shipping & Returns
Shipping
We offer free shipping to anywhere in the continental United States, United Kingdom, Canada, and Australia. All orders placed between the hours of 6 am and 3 pm Monday and Friday will be shipped out in 2-3 business days. Business days are Monday through Friday, excluding all US postal holidays. Handling is also included in your order. As soon as your order is shipped, you will be sent a confirmation email with your tracking numbers necessary to locate and track the status of your order in transit.
If you find yourself needing help please contact our customer service team with any questions or concerns.
You can reach them 9am-6pm EST at (833) 287-4246 or via email at [email protected]
Returning Products
Your order comes with a 180 Day, 100% Money Back Guarantee. That means if you change your mind about this decision at any point in the next six months – all you need to do is email us or call our customer support team, they'll give you a return address where you can ship both your empty and full products and we'll refund your purchase. The shipping and postage to cover the return will be paid by the customer.
You can reach our customer service team to request a refund. 9am-6pm EST at (833) 287-4246 or via email at [email protected] 24/7.