Product Details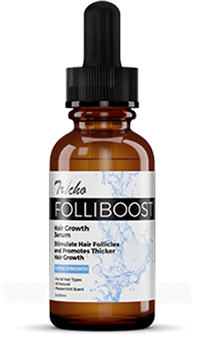 The #1 hair growth must have of 2020 is designed to promote thicker and fuller hair growth through specifically formulated natural compounds and ingredients. Roll back the clock on hair aging and give hair a thicker, more youthful appearance.
Experience The Breathtaking Transformation
Stimulate

Wake up your
hair follicles

Thicken

See hair begin to
look thicker

Renew

Enjoy less thin
looking hair fast

Fortify & Strengthen

Feel stronger hair that
keeps its thick, full
looking appearance for life.
Works On All Hair Types
Normal
Thin
Thick
Short
Long
Benefits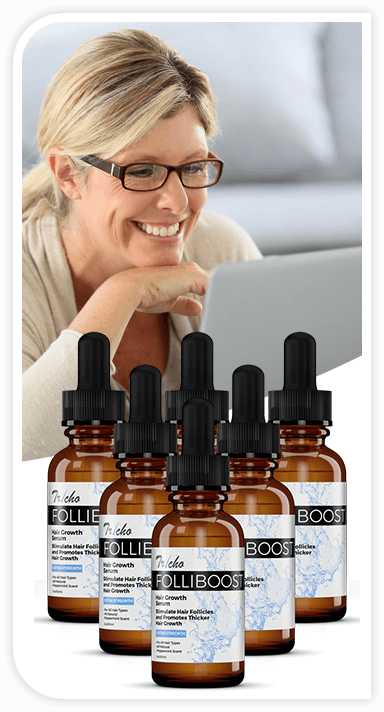 Recovers Beautiful,
Thick & Luscious Hair
Powerful hair growth compounds instantly start to stimulate follicles at the root to promote thicker hair growth and give a beautiful looking head of hair.
Wake Up Follicles With Breakthrough Natural Compounds
Award winning natural ingredients used in our serum may help "reactivate" dormant hair follicles that have slowed down and recover your beautiful, thick, and luscious hair.
Supercharge Your
Hair Growth Routine
Folliboost harnesses all natural ingredients into one bottle to bring back the same youthful & beautiful looking hair you had like 20 years ago (or better) in as little as 1 minute a day.
Protect Your New Hair
The nutrients in folliboost help ensure your new beautiful hair stays thick and beautiful through the course of everday life.
Key Ingredients
AnaGain ™
Anagain ™ has shown in clinical studies to increase the level of hair density. It is designed to reduce hair loss by inducing dermal papilla cells to reactivate hair growth.

Baicapail ™
Baicapil ™ is a natural compound that works to counteract the causes of thinning hair and hair loss.

Biotin
Biotin benefits your hair by rebuilding hair shingles that have been damaged from over-shampooing, exposure to the sun, blow-drying and ironing. Studies consistently show evidence of clinical improvement. Deficiency can result in alopecia.

Arginine HCL
Helps slow hair loss by increasing the level of nitric oxide in the body.

Peppermint Oil
Ensures your hair smells amazing as well helps improve blood flow to the follicles which is extremely important for hair growth.
How It Works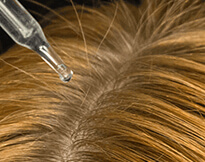 Step 1
Apply Hair Growth Serum
Fill the dropper with serum from the bottle and apply 1-3 drops to each area of your hair and scalp you'd like to improve hair growth or help reduce hair loss.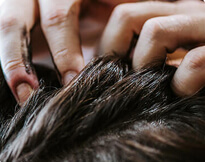 Step 2
Gently Massage Into Your Scalp
Massage the serum gently into your scalp with your fingertips so that the Serum can "soak" in and work in the best possible way.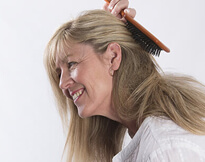 Step 3
Leave Serum In To
Let It Work It's Magic
Do not rinse the serum. Leave the serum in your hair until your next application. The serum works best when it has time to stimulate, rejuvenate and repair hair follicles.
For Best Results Apply Twice A Day
Apply once in the morning
before starting your day
Apply at night before
going to bed
Our Folliboost Guarantee
Fuller And Thicker Hair - Or Your Money Back.
Folliboost is a premium product with natural ingredients shown to promote thicker hair growth, help with visible signs of hair loss, and generally improve your hair in women of all hair types.
That said - everyone's hair is different and if you aren't satisfied with what the product is doing for your hair - Tricho Labs offers a 100% 180 Day Money Back Guarantee.
How does it work? Try the product out as the instructions lay out and if you are not happy with the product for whatever reason you can send it back to us in 180 days for your money-back.
About Folliboost
Folliboost is dedicated to providing women with healthy hair products that are made in the USA, with top quality natural ingredients.
We are committed to giving you the best product possible, and the best service thereafter. If you have any custom suggestions you'd like us to consider, we LOVE those! Please reach out and we'll see if we can get them incorporated.
Our manufacturing facility is state of the art and under top standards.
With a mixed team of manufacturers, supply-chain, production, chemists, business people and marketers- we're all here to serve YOU.
Shipping & Returns
Shipping
We offer free shipping to anywhere in the continental United States. All orders placed between the hours of 6 am and 3 pm Monday and Friday will be shipped out in 2-3 business days. Business days are Monday through Friday, excluding all US postal holidays. Handling is also included in your order. As soon as your order is shipped, you will be sent a confirmation email with your tracking numbers necessary to locate and track the status of your order in transit.
If you find yourself needing help please contact our customer service team with any questions or concerns.
You can reach them 9am-6pm EST at (833) 287-4246 or via email at [email protected]
Returning Products
Your order comes with a 180 Day, 100% Money Back Guarantee. That means if you change your mind about this decision at any point in the next six months – all you need to do is email us or call our customer support team, they'll give you a return address where you can ship both your empty and full products and we'll refund your purchase. The shipping and postage to cover the return will be paid by the customer.
You can reach our customer service team to request a refund. 9am-6pm EST at (833) 287-4246 or via email at [email protected] 24/7.